Samsung 32" LS32BM801UEXXS 4K 60Hz 4ms UHD HDR10+ Slim Fit Camera IoT Hub Airplay Type C Ultrawide M8 Smart Monitor
Price

RM3,488.00

Product SKU
LS32BM801UEXXS
Size (L x W x H)
79.8 cm x 12.4 cm x 56.8 cm
Availability
In Stock
Quantity
Description
Highlight
Smart TV experience with just a monitor with its embedded TV apps
Cutting-edge iconic slim design that suits every place
Effortlessly work on documents, video conference, and access files from PCs wirelessly
Resolution3,840 x 2,160
Aspect Ratio16:9
Brightness (Typical)400cd/㎡
Contrast Ratio Static3,000:1(Typ.)
Response Time4ms(GTG)
Refresh RateMax 60Hz
Screen Size (Class)32
Flat / CurvedFlat
Smart TV experience with just a monitor with its embedded TV apps
Cutting-edge iconic slim design that suits every place
Effortlessly work on documents, video conference, and access files from PCs wirelessly
Watch, play, live in style
Everything you need is right in your screen. Watch, work and chat - all without connecting a separate PC - with Smart Monitor. Your favorite content, productivity and video call apps are built-in for a simpler and more stylish desk setup that's a joy to use every time.
Smart TV Experience
Effortless entertainment. Enjoy Netflix, YouTube and other streaming services by simply connecting the monitor to WiFi. Samsung TV Plus also offers free live and on-demand content with no downloads or sign-up needed, while Universal Guide provides personalized content recommendations.
Mobile connectivity
Convenient connectivity. With AirPlay integration, you can wirelessly connect Apple devices to the Smart Monitor and view on a bigger screen. Enjoy your favorite content from an iPhone, iPad, and Mac on the Smart Monitor and even mirror apps, documents, and websites.
Perfect precision brings details to life
UHD & HDR 10+
Pictures with precision. UHD resolution ensures every piece of content is brought to life beautifully. HDR 10+ support with a billion colors and sRGB 99% creates brighter and darker scenes for more nuanced settings without losing any vivid detail, so you can enjoy content exactly as it was intended.
USB type-C
The USB type-C port enables you to power up, transmit data, and even send display signals between devices with just one connection. Its single connection architecture brings an enjoyable work environment that's both clutter-free and stress-free.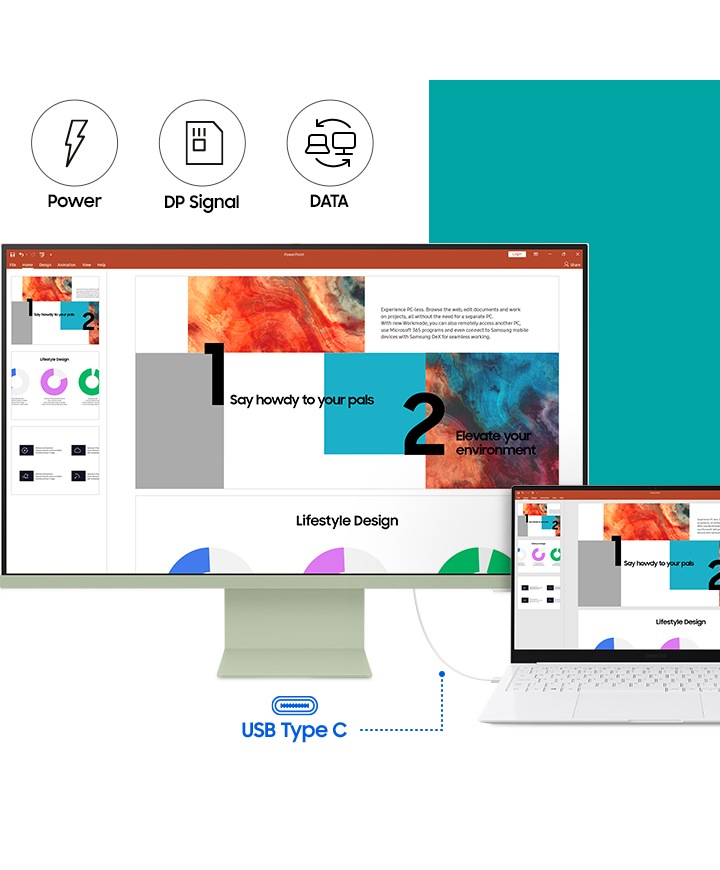 Ultrawide Game View
Keep your eye on the win. Adjust your screen to 21:9 to discover hidden areas in game scenes with Ultrawide Game View. Now when you play soccer games, see more of the pitch right up to the goalposts. And in driving games, get a natural and encompassing view of the road ahead.
Specifications
Resolution3,840 x 2,160

Aspect Ratio16:9

Brightness (Typical)400cd/㎡

Contrast Ratio Static3,000:1(Typ.)

Response Time4ms(GTG)

Refresh RateMax 60Hz
Specifications Detail
Display
Screen Size (Class)32
Flat / CurvedFlat
Active Display Size (HxV) (mm)697.306 x 392.234mm
Screen CurvatureN/A
Aspect Ratio16:9
Panel TypeVA
Brightness (Typical)400 cd/㎡
Peak Brightness (Typical)N/A
Brightness (Min)300 cd/㎡
Contrast Ratio Static3,000:1(Typ.)
Dynamic Contrast RatioN/A
HDR(High Dynamic Range)HDR10
HDR10+Yes
HDR10+ GamingN/A
Mini LED Local DimmingN/A
Resolution3,840 x 2,160
Response Time4ms(GTG)
Viewing Angle (H/V)178°(H)/178°(V)
Color SupportMax 1B
Color Gamut (NTSC 1976)N/A
Color Gamut (DCI Coverage)N/A
sRGB Coverage99% (Typ.)
Adobe RGB CoverageN/A
Refresh RateMax 60Hz
General Feature
Samsung MagicRotation AutoN/A
Eco Saving PlusN/A
Eco Motion SensorN/A
Eco Light SensorN/A
0.00 W Off modeN/A
Eye Saver ModeYes
Flicker FreeYes
Picture-In-PictureN/A
Picture-By-PictureN/A
Quantum Dot ColourN/A
Game ModeYes
Image SizeN/A
USB Super ChargingN/A
Daisy ChainN/A
Windows CertificationWindows 10
FreeSyncN/A
G-SyncN/A
Off Timer PlusN/A
Smartphone Wireless ChargingN/A
Black EqualizerN/A
Low Input Lag ModeN/A
Virtual AIM PointN/A
Core SyncN/A
Refresh Rate OptimizorN/A
Game Bar 2.0Yes
Gaming HubN/A
Super Arena Gaming UXN/A
HDMI-CECYes
Auto Source SwitchN/A
Auto Source Switch+Yes
Adaptive PictureYes
USB-C Power BoostN/A
Ultrawide Game ViewYes
Smart Service
Smart TypeSmart
Operating SystemTizen™
BixbyUS English, UK English, India English, Korean, French, German, Italian, Spanish, BR Portuquese (features vary by language)
Far-Field Voice InteractionYes
TV PlusYes (AU Only)
Alexa Built-inYes (AU, NZ Only)
Universal GuideN/A
SmartThings App SupportYes
Google Assistant Built-inN/A
SmartThingsYes
Works with Google AssistantYes (AU, SG Only)
Mobile to Screen - Mirroring, DLNAYes
Works with AlexaYes (AU, NZ Only)
Tap ViewYes
Remote AccessYes
Video CommunicationGoogle Duo
Sound MirroringYes
ConnectShare™ (USB 2.0)Yes
Web ServiceMicrosoft 365
Interface
Wireless DisplayYes
D-SubNo
DVINo
Dual Link DVINo
Display PortNo
Display Port VersionNo
Display Port OutNo
Display Port Out VersionN/A
Mini-Display PortNo
HDMINo
HDMI VersionN/A
Micro HDMI1
Micro HDMI Version2.0
Audio InNo
HeadphoneNo
USB Hub1
USB Hub Version3.0 (C Type)
USB-C1 EA
USB-C Charging Power65W
Thunderbolt 3N/A
Thunderbolt 3 Charging Power (Port 1)N/A
Thunderbolt 3 Charging Power (Port 2)N/A
Ethernet (LAN)N/A
Wireless LAN Built-inYes (WiFi5)
BluetoothYes (BT4.2)
Built-in CameraNo
Windows Hello CertificationN/A
Audio
Operation Conditions
Temperature10~40 ℃
Humidity10~80(non-condensing)
Calibration
Factory TunningYes
Built in Calibration EngineN/A
LUT(Look-up Table) Bit DepthN/A
Gray BalanceN/A
Uniformity CorrectionN/A
Color ModeN/A
CMS(Color Management Software)N/A
Factory Calibration ReportN/A
Design
Front ColourWARM WHITE
Rear ColorWARM WHITE
Stand ColorWarm White
Stand TypeHAS
HAS(Height Adjustable Stand)120.0±5.0mm
Tilt-2.0˚(±2.0˚) ~ 15.0˚(±2.0˚)
SwivelN/A
PivotN/A
Wall MountN/A
Eco
ENERGY STARN/A
Energy Efficiency ClassN/A
Recycled PlasticN/A
Power
Power SupplyAC 100~240V
Power Consumption (Max)N/A
Power Consumption (Typ)N/A
Power Consumption (DPMS)N/A
Power Consumption (Off Mode)N/A
Power Consumption (Yearly)N/A
TypeExternal Adaptor
Dimension
Set Dimension with Stand (WxHxD)713.4 x 575.2 x 203.8 mm
Set Dimension without Stand (WxHxD)713.4 x 418.8 x 22.3 mm
Package Dimension (WxHxD)798.0 x 124.0 x 568.0 mm
Weight
Set Weight with Stand6.7 kg
Set Weight without Stand4.4 kg
Package Weight9.4 kg
Accessory
Power Cable Length1.5 m
D-Sub CableNo
DVI CableNo
HDMI CableNo
HDMI to DVI CableNo
DP CableNo
USB Type-C CableYes
Thunderbolt 3 CableNo
Mini-Display GenderNo
Install CDNo
Audio CableNo
USB 2.0 CableNo
USB 3.0 CableNo
Remote ControllerYes
CameraYes
What's in the box
1xSamsung 32" LS32BM801UEXXS